This System was Designed, Written and Implemented by Roy Dorsey
State Employee: "This system processed over 50 million dollars in Childcare claims"
Issue:
 Low income parents have a difficult time meeting daily expense of childcare. Since childcare is so expensive most will never be able to find a job that would cover all expenses or to be able to attend school to improve their situation.
Solution:
The federal and state government enacted a program that would help families who are eligible for assistance, with their childcare cost. These parents must find a job or attend school to be eligible.
The State of Indiana, decided to contract with Voucher Agencies to carry out the responsibility of tracking eligible families and payments made to Daycares in each County.
Automation:
Some Agencies had very few families that qualify for assisstance, but the larger populations such as Marion county (Indianapolis) had thousands and needed a system to help track familes and Daycares.
The Voucher System was created to perform a variety of task for a Voucher Agency. From performing family eligibility to payment of childcare claims by Check or ACH bank transaction.
Voucher Agent quote: "Using this this system has allow me to get 3 weeks of work done in 3 days"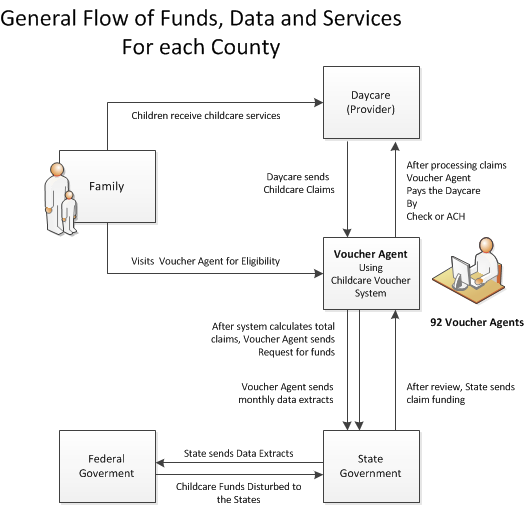 Product History:
1991 – Designed and developed the initial system that was used by the Marion County Voucher Agency.
Client Server system
Magic DOS base development tool
Btrieve Database
1 County – Marion
9 workstation network
1998 - Federal funding increased
More families get assistance
Voucher Agent increased staff.
Networked to 3 locations (T1) and 70 workstations in Marion county (Indianapolis).
1999 - The State of Indiana required all Voucher Agents to use a computer base system
Using e-developer, 6 months of conversion to the Windows Base Product
Acquired 36 additional Voucher Agent counties in Indiana
Installed and setup systems in the new counties
Requirement gathering from the new counties, produced additional modifications
2000 - Acquired an additional 4 Counties
2001 - The State of Indiana centralize the system, no longer run by Voucher Agents.
Move all 41 systems from the county Agencies, to Servers located at the State of Indiana
Converted all other systems to the Childcare Voucher system
Modified the system to process Daycare Claims for all 92 counties.
Setup the State of Indiana server network
Setup the State of Indiana help desk
2003 – 2006 - The State of Indiana creates a Web Eligibility front end for the system.
Intergrate the Voucher system to the State Web front end
Produced and operated the daily Bridge processing
System processed claims
Produced payment transactions for the State of Indiana
Produced files for the Federal Government
Sample Pages from the User's Guide.